Actualité!
J'avais une pratique privée comme psychanalyste  à Bruxelles. Ma spécialité est 'la détresse et le désarroi'; j'accueille les demandes d'aide par rapport à toutes formes de mal-être mental. Je compte ouvrir un cabinet à Nancy et y établir une pratique.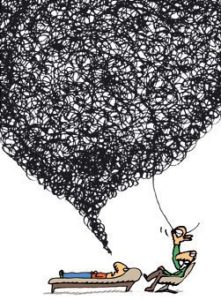 I had a private practice as a psychoanalyst in  Brussels. I practiced in English, French and Dutch. I am specialised in 'distress and disarray', meaning I am not specialised 🙂 From now on, I am in Nancy in France.
Ik had een privé-praktijk als psychoanalytica in Brussel. Ik ontvang in het Nederlands,  Frans en Engels. Ik ben gespecialiseerd in 'onbehagen en ontreddering', waarmee ik het punt wil maken dat ik niet-gespecialiseerd ben. Mensen met elke vorm van mentale 'miserie' en met een hulpvraag zijn welkom. Ik ben nu in Nancy in Frankrijk.