30.08.2022, Interview, De Jonge, S. « Als je je fantasieën in bed kunt beleven, heb je minder ruzie met je buur of je baas »
Vannheule, S., Devisch, I., Bracke, P., Bazan, A., & Calmeyn, M. (2021). Hoe breed moet je een adviescommissie dan samenstellen. Brief van de dag. De Standaard, 02.11.2021.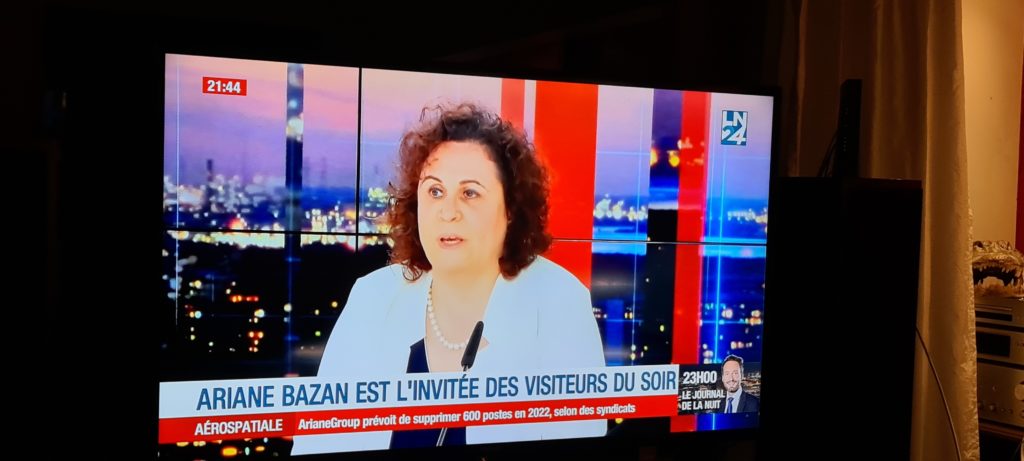 12.05.2021, Selleslag, H. « D'où vient notre fascination pour le true crime ? », Vice.
06.05.2021, Bazan, A. « L'aide médicale à mourir en cas de troubles mentaux : leçons de l'expérience belge », Policy Options Politiques.
Interview The Vienna Psychoanalyst March 28, 2018 PDF interview here
Sonnemans, A. (2018). Dit zijn de mensen die jongeren met een doodswens helpen. In gesprek met een voorstander en een tegenstander van euthanasie bij psychisch lijden. Tonic,health platform van VICE, Amsterdam, 09.02.2018.
"Er zijn geen objectieve redenen om te leven. Voor elke reden die je bedenkt, is er altijd iemand die dat niet heeft. Het is daarom de plicht van alle mensen om elkaar voortdurend tot het leven te verleiden. Wie de vraag stelt: dood mij, vraagt de ander om aan deze plicht te verzaken."
Besmond de Senneville, A. (2017), En quinze ans, l'euthanasie s'est banalisée en Belgique. La Croix, p.8-9.
Verhaeghe, T. & Bazan, 1. (2017), Dwang mag nooit een noodzaak zijn, Kinder- en jeugdpsychiatrie onder de loep. Sociaal.net 26.11.2017
Ruim 1 op 7 van de jongeren werd tijdens hun opname in de kinder- en jeugdpsychiatrie vastgebonden of opgesloten. Een veel te hoog cijfer.
Bazan, A. & Verhaege, T. (2017), Verbod op eezame opluiting bij kinderen onder de 16 jaar kan krachtige motor zijn voor verandering in kinderpsychiatrie. De Morgen. 27.10.2017
Kollectief Zonder Dwang reageert op rapport Vlaamse Zorginspectie
14.09.2017, Journal Le Soir: Le débat du jour "Faut-il élargir les conditions d'accès à l'euthanasie?"
de Koning, P. ( 2017). Angst voor de macht? Wilders laat er niks van zien. NRC Handelsblad. Nrc.nl. 10.03.2017
Bazan, A. (2017), Plus de sorcières et moins de barbares. La Revue Nouvelle, 5, dossier "A tous nos monstres", online.
Qu'est-ce qui fait la monstruosité humaine ? Sommes-nous tous monstrueux ? Partant du principe d'une potentialité monstrueuse en chacun de nous, il s'agit de comprendre le basculement dans la monstruosité. Cela nécessite, d'une part, une analyse des formes de violence et, d'autre part, d'interroger ce qui fait le lien social.
Maes, R. & Kolowski. G., (2017), A tous nos montres, La Revue nouvelle, 5
Entretien avec Renaud Maes
Ariane Bazan revient elle aussi sur les monstres humains, dans une analyse qui fait écho au texte de Paola Stévenne. Elle suggère que nous avons tous en nous la potentialité d'être un monstre, que cette potentialité est inhérente à l'être humain. Ce qui nous retient d'un basculement dans les formes les plus absolues de violence, c'est la possibilité d'une séduction amenant à tisser des liens avec d'autres… Humiliation et isolement produisent des monstres, mais il y a moyen de contrer ces processus. Sans pour autant croire dans la chimère d'une société sans violence et en partant du principe que « rien n'est jamais acquis à l'homme ».
09/12/2016, Intervention at the Belgian College of Neuropsychopharmacology and Biological Psychiatry National Day: 'Pain, incurability and euthanasia
November 2016, Journal In druk (Bruzz), interviewée par Ken Lambeets dans un portrait intitulé « Een moeder kan haar kind alleen maar misvormen »
Bazan, A. (2016), De onherleidnare Achillespezen van de menselijke conditie. Mirari. 09.11.2016
Bazan, A. (2016), Euthanasie bij psychisch lijden ondermijnt het veld van de mentale gezondheiszorg