05-12-2017, La Croix, pp. 8-9: En quinze ans, l'euthanasie s'est banalisée en Belgique. Loup Besmond de Senneville.
Dwang mag nooit een noodzaak zijn
sociaal.net, 28-11-2017
Ruim 1 op 7 van de jongeren werd tijdens hun opname in de kinder- en jeugdpsychiatrie vastgebonden of opgesloten. Een veel te hoog cijfer.
27-10-17, De Morgen – Ariane Bazan en Tom Verhaeghe
Verbod op eenzame opsluiting bij kinderen onder de 16 jaar kan krachtige motor zijn voor verandering in kinderpsychiatrie
Kollectief Zonder Dwang reageert op rapport Vlaamse Zorginspectie
29.09.2017, De Standaard, Opinies. Zeg niet te snel: ze kunnen er niets aan doen
Kinderen die gedragsproblemen vertonen, belanden te vaak in de psychiatrie, schrijft Kollectief Zonder Dwang. We moeten ze langer in hun vertrouwde omgeving proberen te houden, zodat ze de band met hun vertrouwenspersonen niet verliezen.
14.09.2017, Le Soir, Forum, Faut-il élargir les conditions d'accès à l'euthanasie ?
Alphaville Ariane Bazan Documentaire 2013
Catherine Morin, dans son nouveau livre "L' Homme et son cerveau: Neurosciences et psychanalyse" (2017) commente mes idées dans un paragraphe de son livre.
Quelques réponses: http://www.arianebazan.be/?page_id=164
Qu'est-ce qui fait la monstruosité humaine ? Sommes-nous tous monstrueux ? Partant du principe d'une potentialité monstrueuse en chacun de nous, il s'agit de comprendre le basculement dans la monstruosité. Cela nécessite, d'une part, une analyse des formes de violence et, d'autre part, d'interroger ce qui fait le lien social.
Entretien avec Renaud Maes
Ariane Bazan revient elle aussi sur les monstres humains, dans une analyse qui fait écho au texte de Paola Stévenne. Elle suggère que nous avons tous en nous la potentialité d'être un monstre, que cette potentialité est inhérente à l'être humain. Ce qui nous retient d'un basculement dans les formes les plus absolues de violence, c'est la possibilité d'une séduction amenant à tisser des liens avec d'autres… Humiliation et isolement produisent des monstres, mais il y a moyen de contrer ces processus. Sans pour autant croire dans la chimère d'une société sans violence et en partant du principe que « rien n'est jamais acquis à l'homme ».
Han Renard
Uit Knack van 03/05/17
Een andere geestelijke gezondheidszorg, zonder isoleercellen en vernederende behandelingen: daarvoor pleit hoogleraar psychologie Ariane Bazan, die mee haar schouders heeft gezet onder het Kollectief Zonder Dwang. Ze is ook een tegenstander van euthanasie bij zwaar psychisch lijden. 'Patiënten komen nu zelf aanzetten met euthanasie als optie – zo ver is het gekomen.'
31.05. 2017: Giulia Olyff receives a Best Poster Award at the Annual Meeting of the Belgian Association for Psychological Sciences (BAPs) with her poster
"On solving word plays unwittingly" (G. Olyff, S. Detandt and A. Bazan).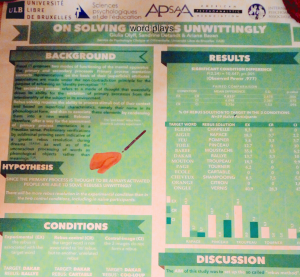 …very proud of this latest publication: published in International Journal of Psychoanalysis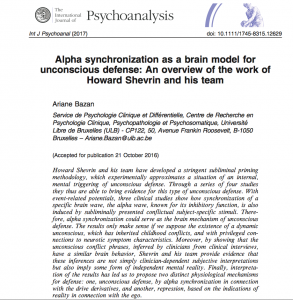 Bazan, A. (2017), Alpha synchronization as a brain model for unconscious defense: An overview of the work of Howard Shevrin and his team. Int J Psychoanal. doi:10.1111/1745-8315.12629
….watch out for this upcoming debate in February 2018!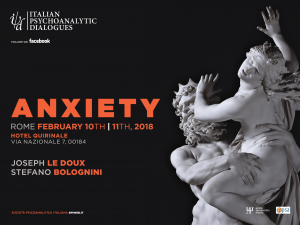 Recent public and general media interventions
de Koning, P. (10 maart 2017). Angst voor de macht? Wilders laat er niks van zien. NRC Handelsblad.
09/12/2016, Intervention at the Belgian College of Neuropsychopharmacology and Biological Psychiatry National Day: 'Pain, incurability and euthanasia': http://www.medi-sphere.be/sites/default/files/uploads/neuron/2016/agenda/programme091220162.pdf
November 2016, In druk, interview door Ken Lambeets "Een moeder kan haar kind alleen maar misvormen"
Novembre 2016, De onherleidbare Achillespezen van de menselijke conditie
EUTHANASIE BIJ PSYCHISCH LIJDEN ONDERMIJNT HET VELD VAN DE MENTALE GEZONDHEIDSZORG
Bazan, A. Mentale gezondheidszorg is geen geneeskunde, Knack online, 29.06.2016  


Publications 2017
Bazan, A. (in press). A propos de la folie et de l'amour dans Crime et Châtiment de Dostoïevski. Psychologie Clinique.
Detandt, S., Bazan, A., Schroder, E., Olyff, G., Kajosch, H., Verbanck, P., & Campanella, S. (in press). A smoking-related background helps smokers to focus. An Event-Related Potentials study during a Go-NoGo Task in smokers. Clinical Neurophysiology.
Bazan, A. & Detandt, S. (2017). The grand challenge for psychoanalysis and neuropsychoanalysis: a science of the subject. Frontiers in Psychology 8, 1259 doi: 10.3389/fpsyg.2017.01259.
Detandt, S., Bazan, A., Quertemont, E., & Verbanck, P. (2017). Smoking addiction the shift from head to hands. Approach bias towards smoking-related cues in low dependent versus dependent smokers. Journal of Psychopharmacology, 31(7):819-829.
Bazan, A., Klein, A., Luminet, O., Rosoux, V., van Ypersele, L. (mai 2017). Belgique-België. Croisement de langues, d'histoires & de mémoires. Mémoires en jeu, 3, 120-129.
Bazan, A. (2017). Alpha synchronization as a brain model for unconscious defense: An overview of the work of Howard Shevrin and his team.  The International Journal of Psychoanalysis doi:10.1111/1745-8315.12629 .
Detandt, S., Leys, C. & Bazan, A., (2017). A French Translation of the Pleasure Arousal Dominance (PAD) Semantic Differential Scale for the Measure of Affect and Drive. Psychologica Belgica, 57(1), 17–31.  DOI: http://doi.org/10.5334/pb.340
De Gélas, M., Parrent, A. & Bazan, A. (2017). Les processus primaires et secondaires selon Freud: actualité et pertinence du concept et de sa mesure pour la clinique. In Analysis, 46-54.
Bazan, A. (2017). Thèse de doctorat: Des fantômes dans la voix. Une hypothèse neuropsychanalytique sur la structure de l'inconscient. In Analysis, 1(1), 66–67.
Bazan, A. (2017). Au commencement était l'acte. A propos de « Au cœur de l'affect, le 'récit non verbal' ». In Analysis, 1(1), 18–21.