…very proud of this latest publication: early view, to be published soon in International Journal of Psychoanalysis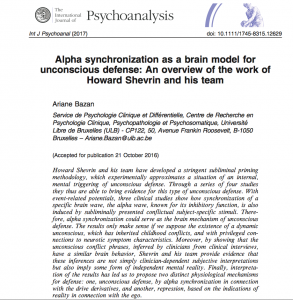 Bazan, A. (2017), Alpha synchronization as a brain model for unconscious defense: An overview of the work of Howard Shevrin and his team. Int J Psychoanal. doi:10.1111/1745-8315.12629
after the APsA: The International Psychoanalytic Association funds our research project on primary processes!

… and I do like that they call me Doctor Doctor!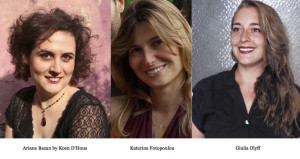 American Psychoanalytic Association funds our research project on primary processes!
News: APsaA Funds Four New Research Projects
New York – November 22, 2016 – Four new research projects were selected by the American Psychoanalytic Association's (APsaA) Fund for Psychoanalytic Research program, part of the Association's ongoing commitment to supporting psychoanalytic research and encouraging future psychoanalytic investigators. A total of $75,000 was awarded to the grantees.
Ariane Bazan, Ph.D. (Université Libre de Bruxelles, ULB) – Research Grant – On Primary and Secondary process. Freudian Repression at the Interface of Psychoanalysis and a Cognitive Approach – $20,000
See also: PRESTIGIOUS FUNDING AWARDS FOR NPSA COLLEAGUES
The full name of this award-winning project is
Secondary process mentation as a defense against ambiguity: an empirical study in clinical populations with exacerbated control using pictorial and  linguistic stimuli.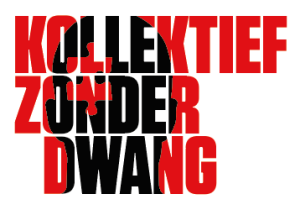 (C) Mario Debaene
Kollectief Zonder Dwang

We hebben een Kollectief opgericht, Kollectief Zonder Dwang, met een eerste gezamenlijk opiniestuk:
Bart Reynders e.a. (2017). Geestelijke gezondheidszorg moet eerst en vooral inzetten op deze mentaliteitswijziging. De Morgen, 21 februari 2017.
en er komt een vervolg studiedag op 4 mei 2017 in het Vlaams Parlement, als opvolging van de vorige, en met antwoordsuggesties op de vele vragen van de vorige keer: 'Hoe doen we dat in de praktijk, behandelen zonder dwang?'.  Vorige studiedag: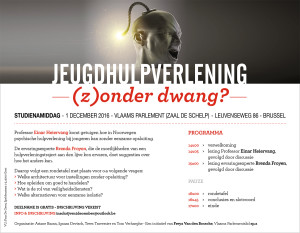 De mensen die het Kollectief maken zijn: Bart Reynders, Evi Verbeke, Liesbet De Kock, Ferdy Marysse, Fie Vandamme, Gerrit Loots, Jan Naert en dan de anciens: Ignaas Devisch, Tom Verhaeghe, Trees Traversier, Freya Van den Bossche, Eline Vivey, en ikzelf.
Vele kritieken zijn mogelijk, Kollectief met een K en een c is een poging om ze af te leiden op de kwestie van de spelling (grapje). 24 februari hadden we een hele fijne vergadering in Lekker Geck in Gent, die, hoewel we weinig tijd hadden, toch even ging over hoe het mentale nu kan gedefinieerd worden. Het is (voor mij) heel fijn dat het Kollectief echt een brug tracht te zijn tussen het academische en het institutionele, tussen het denken en de praktijk van de kliniek/de zorgsector; we laten geen van beide einden los, hoewel het een spreidstand is.
Reacties in de pers:
Isolatieverbod is te gemakkelijk – Nood aan een totaalpakket voor alle dwangmaatregelen de Tim Opgenhaffen.
Isolatieverbod als opstap tot betere hulp – Een shift in mensvisie, de Ariane Bazan, Eline Vyey, Freya Van den Bossche, Ignaas Devish, Tom Verhaeghe, Trees Traversier.
Recent public and general media interventions
de Koning, P. (10 maart 2017). Angst voor de macht? Wilders laat er niks van zien. NRC Handelsblad.
Ledoux, C. (2017). Seks is een picknick en de vrouw neemt het eten mee. Interview met Ariane Bazan, hoogleraar klinische psychologie en psychopathologie (Université Libre de Bruxelles, ULB). Femma Magazine.
09/12/2016, Intervention at the Belgian College of Neuropsychopharmacology and Biological Psychiatry National Day: 'Pain, incurability and euthanasia': http://www.medi-sphere.be/sites/default/files/uploads/neuron/2016/agenda/programme091220162.pdf
November 2016, In druk, interview door Ken Lambeets "Een moeder kan haar kind alleen maar misvormen"
Novembre 2016, De onherleidbare Achillespezen van de menselijke conditie
EUTHANASIE BIJ PSYCHISCH LIJDEN ONDERMIJNT HET VELD VAN DE MENTALE GEZONDHEIDSZORG
Bazan, A. Mentale gezondheidszorg is geen geneeskunde, Knack online, 29.06.2016  


Publications 2017
Detandt, S., Bazan, A., Quertemont, E., & Verbanck, P. (in press). Smoking addiction the shift from head to hands. Approach bias towards smoking-related cues in low dependent versus dependent smokers. Journal of Psychopharmacology.
Bazan, A. (2017). Alpha synchronization as a brain model for unconscious defense: An overview of the work of Howard Shevrin and his team.  The International Journal of Psychoanalysis doi:10.1111/1745-8315.12629 .
Detandt, S., Leys, C. & Bazan, A., (2017). A French Translation of the Pleasure Arousal Dominance (PAD) Semantic Differential Scale for the Measure of Affect and Drive. Psychologica Belgica, 57(1), 17–31.  DOI: http://doi.org/10.5334/pb.340
De Gélas, M., Parrent, A. & Bazan, A. (2017). Les processus primaires et secondaires selon Freud: actualité et pertinence du concept et de sa mesure pour la clinique. In Analysis, 46-54.
Bazan, A. (2017). Thèse de doctorat: Des fantômes dans la voix. Une hypothèse neuropsychanalytique sur la structure de l'inconscient. In Analysis, 1(1), 66–67.
Bazan, A. (2017). Au commencement était l'acte. A propos de « Au cœur de l'affect, le 'récit non verbal' ». In Analysis, 1(1), 18–21.
Bazan, A. (2016). Het onderscheid psychose-neurose is structureel. Een neuropsychoanalytisch voorstel. Tijdschrift voor Psychoanalyse, 4, 269-282.